GOLF ETIQUETTE
Top 10 Course Guidlines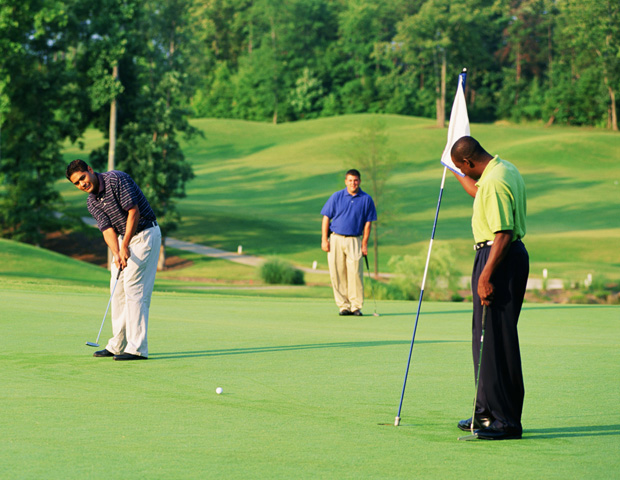 Golf etiquette refers to a set of practices designed to make golf more enjoyable and safe for everybody at the golf course. Although etiquette does not have so much to do with the actual rules governing golf, a working understanding of etiquette is a good thing to have for players of all ages and skill levels. Below are ten quick-bits of golf etiquette to help you and your group enjoy your round(s) of golf to the fullest.
1.      Don't be the slowest player in your group
The average round of golf should take 2 hours for 9 holes, or 4 hours for 18 holes
If your group is not keeping this pace, play ready golf. Ready golf is when players are ready to hit their shot shortly following another player's shot. Rather than all 4 guys standing around watching 1 player hit his shot. You should all be looking for your ball or preparing for your next shot. We all don't need a gallery when we're hitting. Play ready golf by always being prepared. This leads to a quicker pace from tee to green and can help you find a rhythm on the course.
When using a cart: If your ball and your riding partner's ball are somewhat close, walk towards your ball while your partner sets up for his/her shot. Sitting in the cart and watching your partner hit his/her shot only to drive another ten to fifteen yards to repeat the process can be detrimental to pace of play. When it's cart path only and you're using a riding cart, take multiple clubs with you so as to not require a return to trip to the golf cart.
If you hit an errant shot that may be lost from the tee, play a provisional. This keeps players from having to return to the tee should they not find their first shot.
Limit searching for a lost ball to 3 minutes. Also, help other players in your group to locate a ball should they be having some trouble.
2.      Repair the ground you play on
Repair divots you may have taken on the tee boxes, fairways or even the rough. This allows the grass to grow back naturally and keep the course conditions where they ought to be. If your golf cart has a sand/seed mix, feel free to use this in your divots.
Be mindful of repairing ball marks on the green. This allows you, players in your group and other players on the course to enjoy the greens and avoid those dreaded three-putts. The average golfer leaves about 12 ball marks during a typical round of golf. With a daily average of 160 rounds on a typical golf course, your greens will suffer 1,920 ball marks each day and 58,400 ball marks per month–more than 700,000 ball marks each year!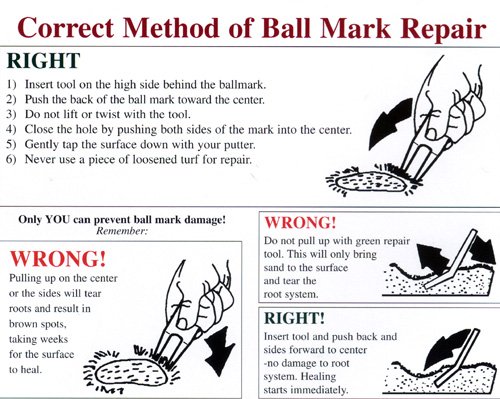 Following a shot from a sand trap, be sure to rake the bunker for the next player whose ball finds the sand. Be sure to rake anywhere your ball may have rolled, was hit and where you have made footprints.
Overall, when repairing the ground you play on, you should simply ask yourself one question: Would I be happy or upset if I had to play from the same spot following my handy work?
3.      Be a courteous partner when needed
Be sure to be still and silent both when a player is at address or in your line of sight. This allows others to focus on their shot and get the most out of their round.
Refrain from talking when someone is preparing to hit a shot or at address. If in the middle of a conversation, allow players to hit their shots and then return to your conversation when the time is right.
When pulling the flagstick from the hole, do not drop it nonchalantly on the green creating a loud noise. Although it may not affect your group, another group may hear it and be affected.
4.      Keep your temper under control
No one enjoys playing with screaming, club throwing guy/gal. It can create tension and uneasiness within the group or surrounding groups.
Find a way to vent in an inoffensive way that doesn't make others uncomfortable. Whether it's swinging harder on your next shot or going to your "happy place", there are lots of ways to avoid an on the course tantrum.
Remember, focusing on how to improve your game is always a better option than sulking about a shot you have already played. A good rule of thumb: Always play your next best shot!
5.      Respect other players' putting lines
Golf is a precise sport, and the smallest of variables can affect any shot. When putting, be sure not to step (as your footprint will leave an indentation in the green) in other players' line or path to the hole from where they are putting.
If your ball is within another players' putting line, be sure to offer to mark it for them.
6.      Commit to tee-times you and your group have arranged
Not showing up to a tee-time you and your group have reserved leaves the other players' in your group high and dry.
Also, showing up late to a tee-time can leave the course scrambling to get you and your group out on a busy day. This can lead to a slower pace of play for not only your group, but others on the course as well.
7.      Lend a helping hand
If a player is having trouble locating a ball, take a minute or two and help them look for it. This will improve your group's pace of play.
If a player has a long distance putt, offer to tend the flagstick for them. Not only is it courteous, but it helps to improve the putting of other players.
Allow other players to use a spare tee or ball marker should they have misplaced theirs or forgotten to pick some up in the pro shop.
8.      Playing through
If your group is offered to play through another group on a hole, you are welcome to say yes or no. When playing through, the group allowing the other group to pass them simply needs to allow the other group to hit their shots and give them ample time to move on.
If a group is not asking your group to play through, it is permissible to ask the group if you may. If the group does not allow yours to play through and you feel as though they should, try utilizing a course ranger or giving the pro-shop a call. The phone number of the clubhouse will be located on the scorecard. Always consult course management before taking issues into your own hands. This can be a touchy subject because you don't want to offend anyone who might be playing slow in your/their group. So, do your best to make a judgment call in a courteous manner and it should be recepted amongst all parties.
Typically, the best hole to play through on is a par 3. The first group can hit their tee shots, mark their balls on the green and step to the side while waving up the group to play through. This is a quick and easy way to play through on a golf course.
9.      Playing with people you don't know
On a busy day, it is not uncommon for courses to pair up small groups as it speeds up play. If this happens, a simple handshake and introduction is customary to get off to a good, friendly start.
Be mindful of the other players in the group and do your best to keep a fun atmosphere within the group.
At the end of the round, a handshake is routine on the last hole.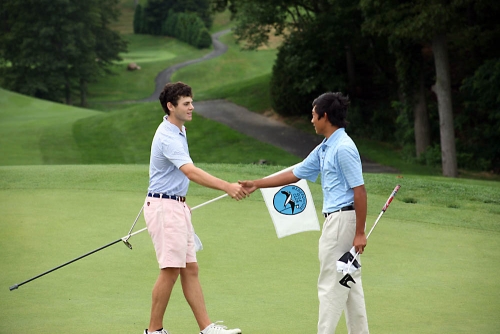 10.  Respecting other players and staff
Whether it's a player in your group or another player from somewhere else on the course, mutual respect is expected. Golf is a game with a great history of courtesy, and it is the players' job to uphold that.
Course staff is always there to help you and to make your day enjoyable. Whether it's grabbing a beverage from a snack bar employee or talking with a course ranger, a little respect goes a long way in making both parties happy.
What parts of course etiquette are most important to you? Let us know in the comments section below.