Welcome to Mallard Creek Golf Club!!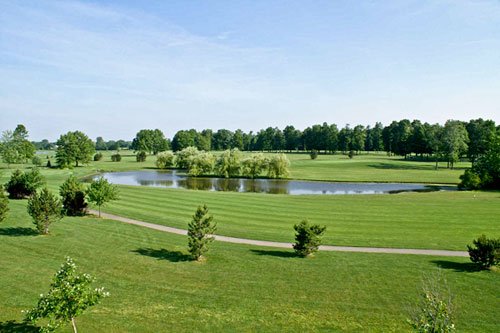 Mallard Creek Golf Club is a beautiful 36-hole public golf course set on 350 acres of gently rolling northeastern Ohio terrain. Just a short drive from the Cleveland area, residing on the north side of route 82 in Columbia Station, Mallard Creek serves tens of thousands of golfers each year, home to corporate and fundraising outings, league play, and public tee-times. The meticulously maintained golf course features full cart paths, 180 golf carts, practice greens, driving range, pavilions, snack bar, and there is also a full service restaurant next door, Bootleggers!
In the May 2012, The Plain Dealer's Golf Guide released a wide variety of accolades that earned Mallard Creek some favorable mentions among Northeast Ohio's Top Courses. Some of these accolades included being voted #1 in the categories of Best Greens Fee Specials, Best Accessibility, Best Pace of Play, & Best Hot Dog!
"The Palmer family has created a golfer's Mecca at affordable rates, and all four nines are good challenges for us average hacks.There's no better place to plan an outdoor picnic and golf venture than this out-of-the-way Columbia Station gem. I also like the fact that if you call ahead, management is honest. They'll tell you whether you can play at a reasonable pace or if the place is booked to the hilt." Pat Galbincea, May 14, 2007
From the low handicapper to the weekend warrior, Mallard Creek offers a challenging, yet forgiving layout designed to keep play moving and provide an enjoyable round for all. Call 440-748-8231 to book a tee time or schedule your group event. We look forward to seeing you this season!